Cleora Public School is conducting a surplus sealed bid auction for the following individual surplus items. -Convection Oven; -Milk Box; -Double Door Reach in Cooler; -Salad Bar; -Sandwich Prep Cooler For questions or more details please email
kguthrie@cleora.net
or call 918-256-6401. Click the following link for full details.
https://www.cleora.net/article/774869

Hello Cardinal Families! This message is for parents of 5th-8th girls for the 2022-23 school year. If you're daughter is interested in Softball, please send a text to 81010 and type: @cleoras in the message. This will sign you up for the Softball information thread through Remind. Practices and other information will be sent through this communication. Keep enjoying the summer!! ☀️ 😎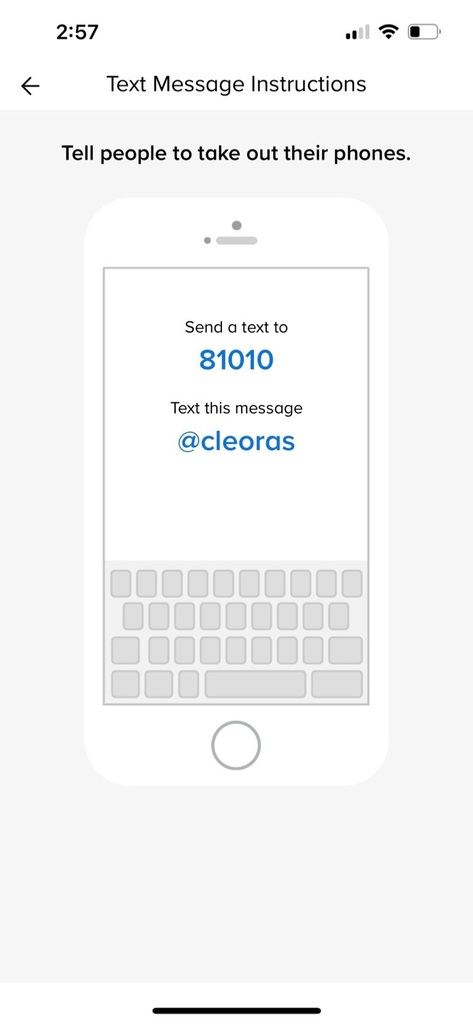 Northwest Arkansas Naturals Baseball would like to reward your extraordinary child for a successful school year through their Report Card RewardZ program presented by GoGo squeeZ. All students who receive at least one A (or equivalent) on their end of year report card will receive two free Dugout Premium tickets to the May 31st Naturals game and get to be recognized on the field/videoboard that night! See full details here:
https://www.cleora.net/article/743870

Due to the heavy rain and large amounts of water on campus, our Family Fun Day will be canceled tomorrow. We will still be grilling hamburgers/hotdogs for lunch and plan to have a few games set up if some areas allow. Parents are of course still welcome to hang out with us during this time. Have a good evening and we look forward to seeing you tomorrow morning at Graduation!

**REMINDER** we have two events going on tomorrow. 1-Our 2022 Student Talent Show "May the Fourth Be With You" will begin at 8:30 am. Parents, family, & community are invited! 2-The Reading Reward Luncheon at Shangri-La will be at 11:30 am. Students who achieved their goal & are attending need to dress up for the occasion. Thank you!

Friday May 6th is our Graduation/Awards day. The event starts at 8:30 AM with Kindergarten graduation, followed by awards, and concludes with 8th grade Graduation. We will also have a "Family Fun Day" beginning at 11:00 AM. Parents/families are invited to this fun-filled afternoon.

Yearbooks are now available. Get yours while they last. They can be purchased for $20 in the front office.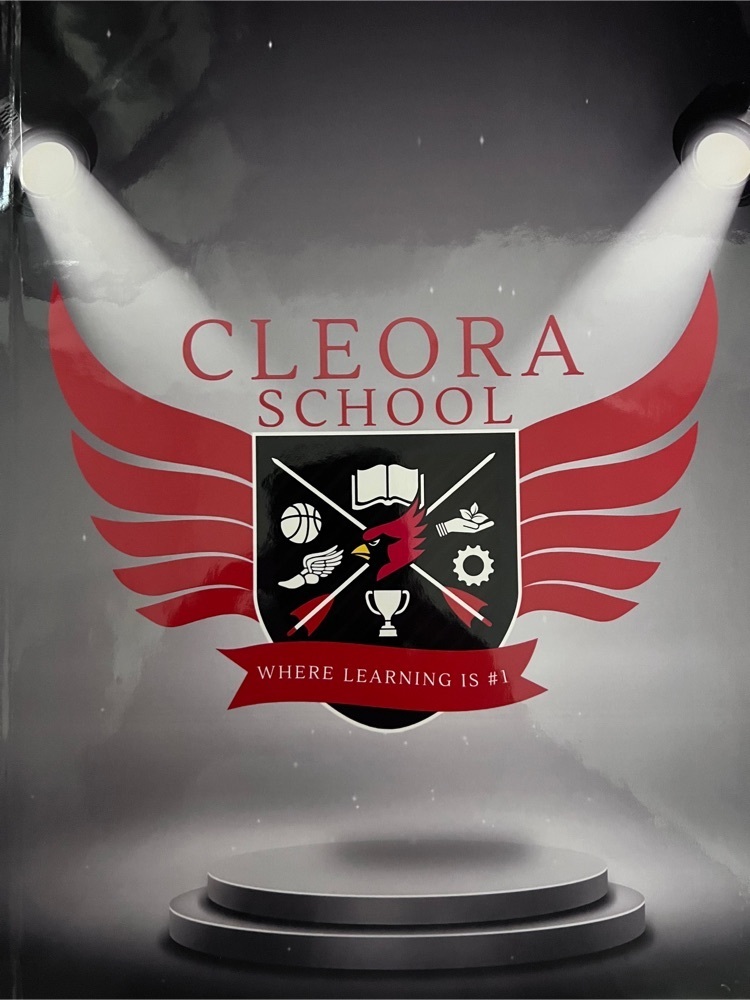 State Testing begins this week & continues through next week for grades 3-8. It is extremely important for students to get good sleep and arrive to school on time each day. Testing begins first thing each morning. Thank you for your assistance and support through this required time. We are confident that our students are prepared and will shine bright as they always do!!

Reminder: No School tomorrow, 4/15/22, Good Friday. Have a great Easter weekend! CONGRATULATIONS to our 7/8 Track & Field teams! Our boys finished 3rd at Regionals today & our girls are Regional Champions!! Both are headed to STATE!!

Come join the Cardinal Family!! We are currently accepting applications for the following positions for our 2022-2023 school year: "Para-Professional" and "Cafeteria Assistant" Use the following link for more information:
https://www.cleora.net/page/job-opportunities

Due to the forecast of inclement weather, the Track & Field meet at Miami has been cancelled for tomorrow.

Congratulations to one of our very own 8th graders! Check out our latest News Story celebrating her achievement! She was chosen among over 500 entries to have her personal narrative writing published in an Anthology. It can be found and purchased on Amazon! The story can be found here:
https://www.cleora.net/article/707285

Cleora Public School is currently accepting Early Enrollment in Pre-Kindergarten and Kindergarten for the 2022-2023 school year. A copy of the student's birth certificate, immunization record, social security card, proof of residency, and a CDIB card (if applicable) will be necessary. You may pick up enrollment packets at the main office between the hours of 8:00 am and 3:00 pm Monday-Friday. Enroll early while there is still availability! For further information, you may call 918-256-6401.

We hope everyone had a great break! We are looking forward to seeing everyone back tomorrow as we get back into the 4th quarter. Only 7 weeks left!😳😲

All students in grades 3-8 need to bring their school issued computer and charger to school tomorrow. We will be doing updates and downloading important testing software on them over spring break. Reminder: No School this Friday & Spring Break next week!! Thank you!

The USDA Summer EBT for Children program is back this summer. Funds are available once again for those households that received Free or Reduced School meals at a participating school!! Households must apply online by April 15th to receive Summer Nutrition EBT Card. • The Summer Nutrition Project is only available to students eligible for free/reduced school meals through the State Nutrition Process, it is administered during summer months when school is not in session. • Students do not have to be tribal members to apply. • The Summer Nutrition Card works like a debit card with a PIN #. • Each school age child in the household will receive food on the Summer Nutrition Card for each of the summer months. Click the following link for full details:
https://www.cleora.net/article/675156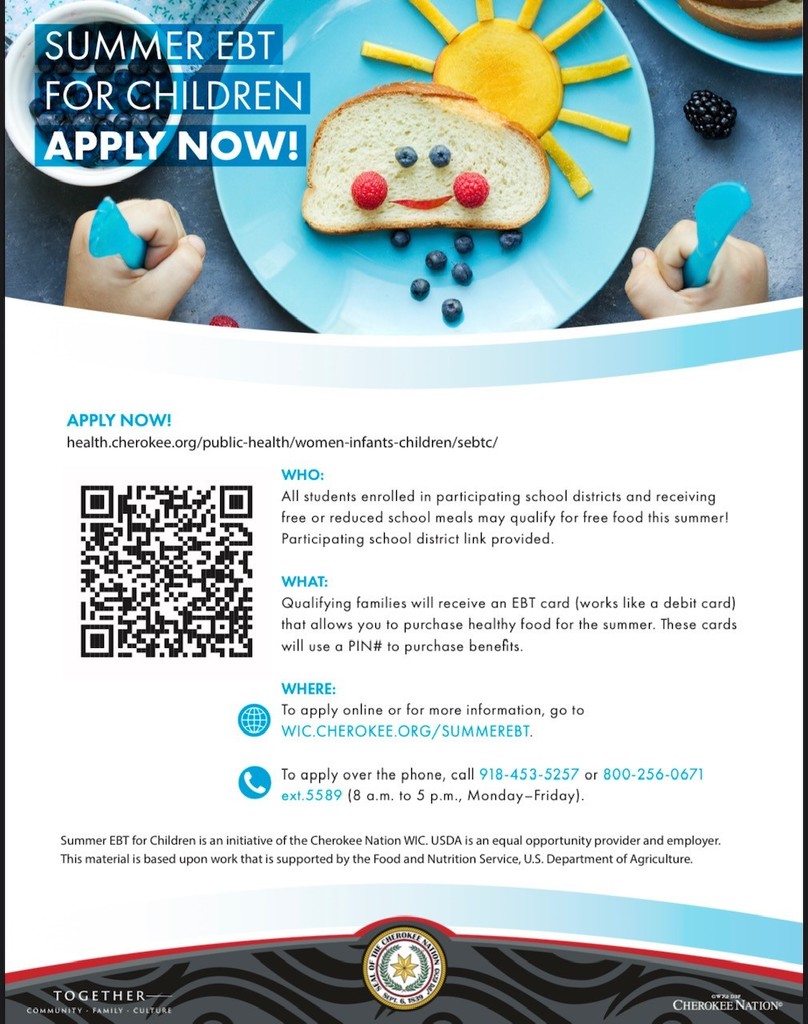 CONGRATULATIONS to our 5th & 6th Robotics Teams! Both teams had a great finish yesterday and have qualified for the STATE TOURNAMENT!! We are extremely proud of them! It's always a great day to be a Cardinal!!

NO SCHOOL tomorrow 2/25/22. This is a regular "snow day". No virtual learning will take place. THANK YOU for the past 2 days for ensuring your child was active with their work & checking in with their teacher. Each of you helped make this possible & successful! Enjoy the 3-day weekend.

The Town Hall Meeting with the Delaware County Sheriff'sDepartment, which was to be held in our gym, has been canceled tonight due to the inclement weather. It will be rescheduled for next Tuesday March 1, 2022.

No in-person school tomorrow. We will do another Virtual Learning day. Thank you parents & families for playing a vital part in our virtual success! You are truly appreciated. Friday's decision will be made sometime tomorrow & IF closed will be a regular day out. Have a good evening.