Virtual Parent-Teacher Conferences are next Monday & Tuesday. You should have received your scheduled day/time. If you have questions please let us know. There is NO SCHOOL Friday 2/12 & Monday 2/15. Enjoy the 4-day weekend!!

Congratulations to our 4th & 5th grade Archery Team for placing in the TOP 20 out of 251 teams at ODW State and advancing to the Grand State Tournament in OKC!! See the full story on our website here:
https://www.cleora.net/article/387836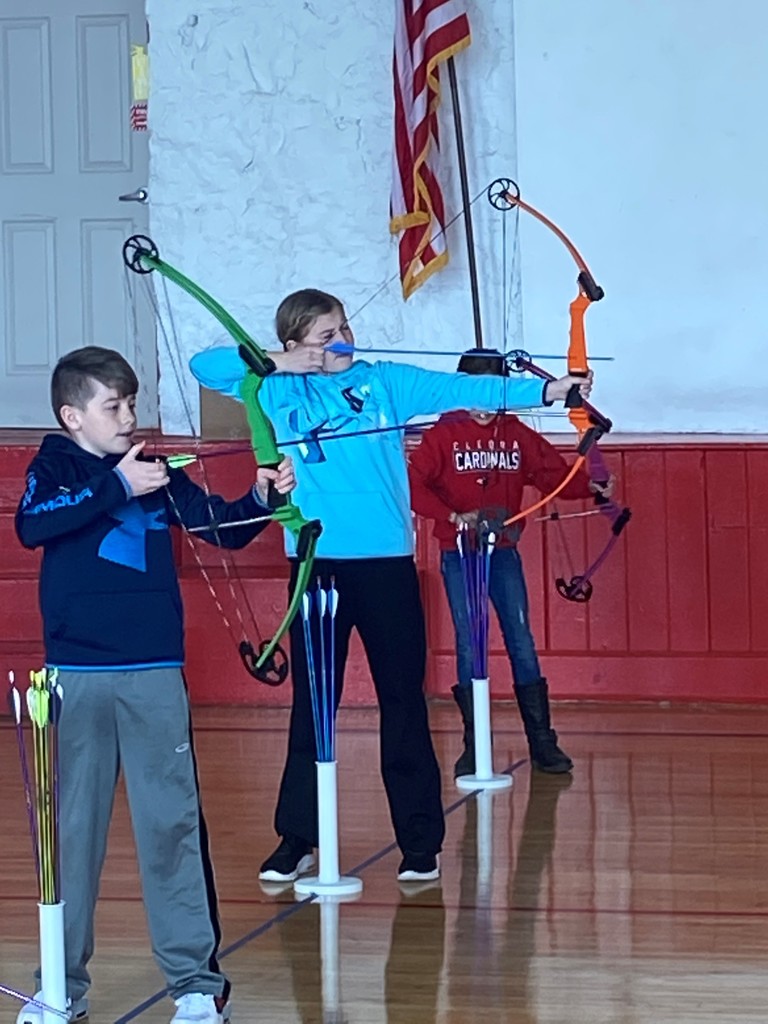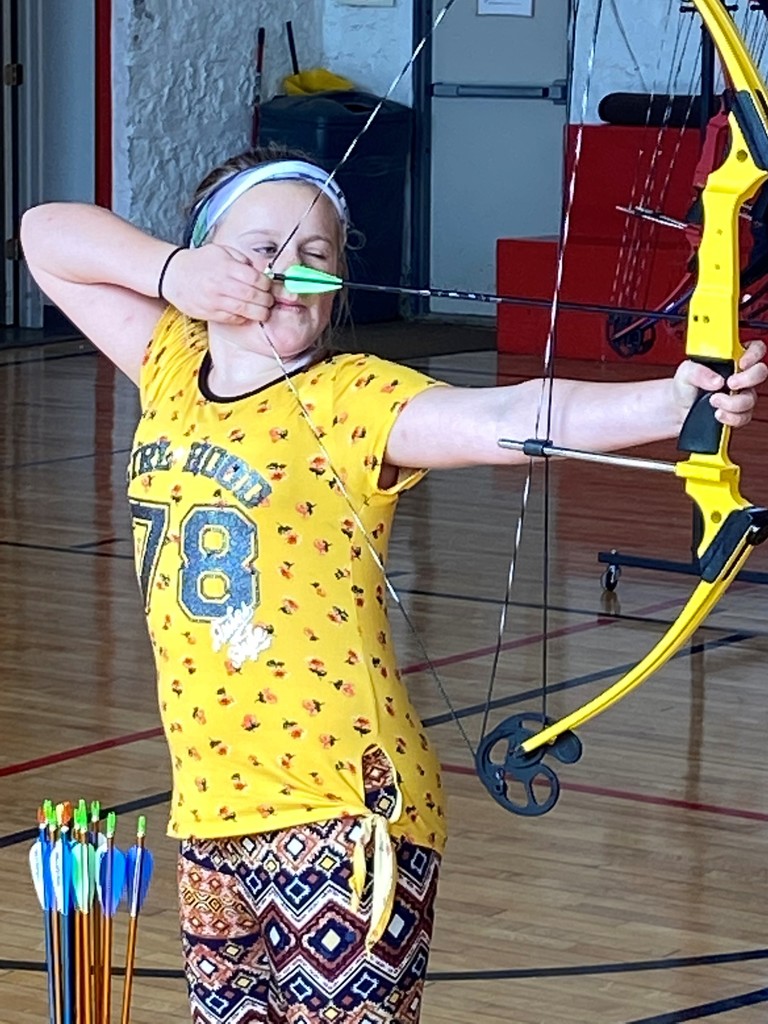 Be sure to check out the two latest news stories on our website: "1st Semester Honor Roll" and "IXL 100 Elite Teacher" Visit here:
https://www.cleora.net/news

Don't forget the Cardinal SWAG apparel order forms through FOTC are due tomorrow.


Reminder: NO SCHOOL Monday 1/18/21 due to the observance of Martin Luther King day. Enjoy your 3-day weekend!

Don't forget the Cardinal SWAG sale going on now through the Friends Of The Cardinals (FOTC). Information and order forms were sent home with your child. Orders are due January 22nd. Please make all Checks out to "Friends Of The Cardinals."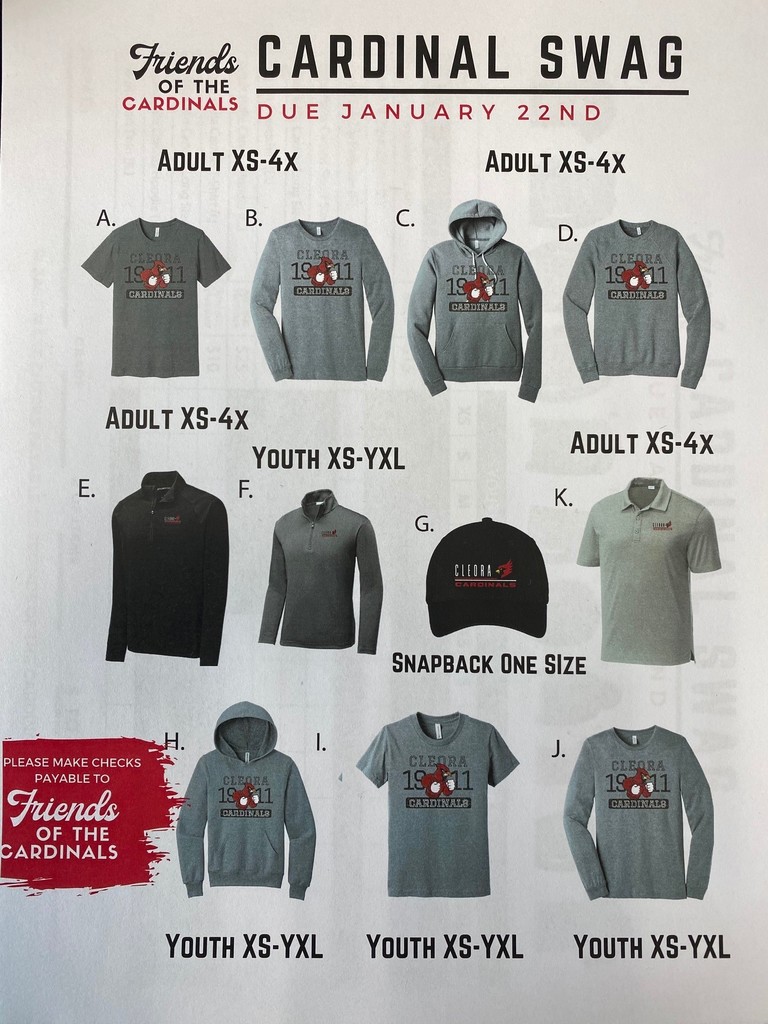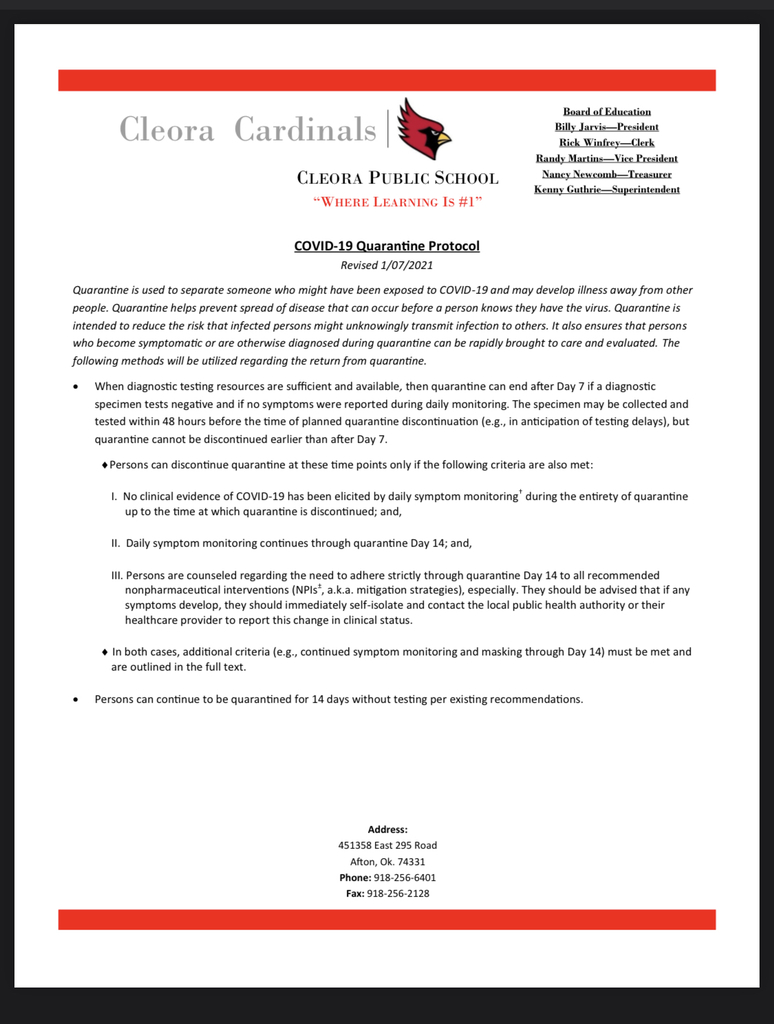 Just a reminder that we will return to school this Tuesday, 1/5/21, with our normal time, schedule, and COVID protocols. Please continue your diligence each day in monitoring symptoms and exposures, as well as your continued communication with us regarding any health changes in your child. THANK YOU and HAPPY NEW YEAR!

Our 2020 Christmas Program "Through the Years" will be released tonight at 7:00 p.m. on our website
https://www.cleora.net
Be sure to check it out. We hope you and your family enjoy it. We will truly miss seeing our families and community! Everyone stay safe and have a Merry Christmas and a Happy New Year!!

STUCO December Winter Dress Up Days: Thursday 12/17 - "Holiday Mask/Ugly Sweater Day" Wear your favorite holiday mask or face covering and wear your Ugly Christmas Sweater. It's class party day too!!

December Winter Dress Up Days: Wednesday 12/16/20 "HOLIDAY THEME" Wear a holiday t-shirt, sweatshirt, or sweater.

All basketball games for today have been canceled. NO GAMES today 12/15/20.

December Winter Dress Up Days: Tuesday 12/15/20 "HOLIDAY BEST" Dress in your fanciest attire. Also, it's the Reading Reward Luncheon for those who qualified. I hope you enjoyed the snow!!

Due to some existing road conditions and refreezing temperatures tonight, there will be NO SCHOOL tomorrow (12/14/2020). Enjoy a good old fashion SNOW DAY!!

STUCO December Winter Dress Up Days: Friday 12/11 - "Festive Friday" Wear your favorite holiday shirt

STUCO December Winter Dress Up Days: Thursday 12/10 - "Long Winter's Nap" Wear your favorite pajamas

STUCO December Winter Dress Up Days: Wednesday 12/09 - "Holiday Headgear" Wear your favorite holiday headgear (it has to be holiday themed to wear)

STUCO December Winter Dress Up Days: Tuesday 12/08 - "Wishing for a Winter Wonderland" Wear all WHITE

STUCO December Winter Dress Up Days: Monday 12/07 - "Grinch Monday" Wear your Grinch attire